Conor & Swigger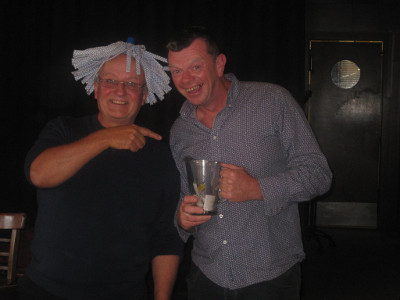 ONCE MORE - They're Back!
This dynamic Anglo/Irish duo impressed so much at our 2014 Christmas party, and repeated that so well in 2015, that we simply had to have them back for 2016, and it seems to have become a Yuletide habit (or is that what Father Christmas wears?). So for the 4th consecutive year, and 4th year in a row, they get to be the honoured guests at the TFMC Christmas do.
They first teamed up some 30 odd years ago back in Leicestershire England. The musical partnership formed back in 1985 has endured well, surviving a change of hemispheres and an Interesting business venture. Some of the songs they perform reflect their backgrounds and social leanings, Swigger's English working class and Conors Irish heritage make for a broad mixture of songs played on guitar and banjo with vocals.
Not to be missed! There may not be another chance! Or their may be, only time will tell.